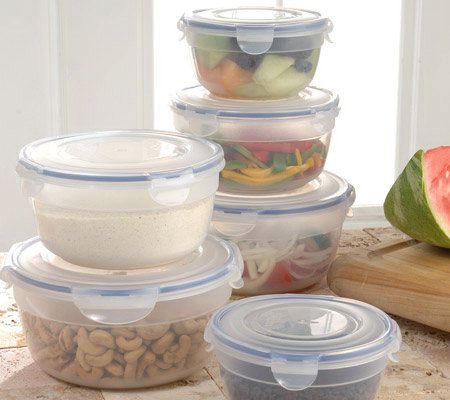 Got these nifty household containers for the holidays from some QVC addicts.  All we can say is this...goodbye Tupperware, hello
Lock and Lock
!  We cannot say enough great things about this product!  It's lightweight, microwave safe, freezer safe, dishwasher safe, and such a snap (yes, pun intended...sorry) to open and close.  
Many of the sets come in bright colors that are still transparent enough to display contents clearly.  Of course, we had to take one, fill it with tomato sauce and drop it on the white-tiled floor to test the "leak-proof" seal...fabulous.  As an extra bonus, the tomato sauce did not stain the high grade, polypropylene plastic container.  
Other fans told us a story about
Lock and Lock
keeping lettuce fresh and crisp for weeks...we don't really recommend keeping produce that long, but it's still good to know!  These guys have really locked out (sorry, again) the competition with this "kool" idea!