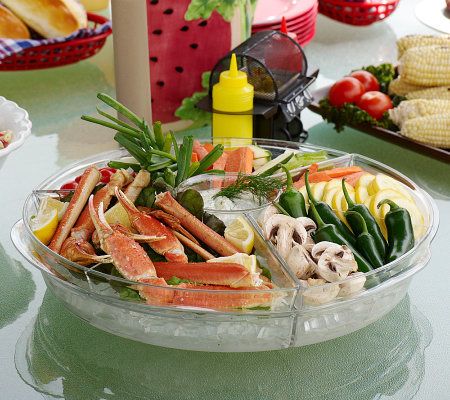 Last year, we were having an outdoor birthday party for our oldest son at the local city pool. His parties are always a hit, not because we go overboard, but since his birthday always falls on Labor Day weekend, it's inevitably the first party of the school year. And since he's in a smaller private school where all the kids know each other, we make sure to invite all of the children in his class...26 kids and
everybody
showed up, with siblings and both parents in tow. Seventy-five people were coming...yikes! We needed food...lots and lots of food. Fruit and veggie platters were a must...plus plenty of candy (our son loves M&Ms) to keep the kids on an energetic sugar high. There was only one problem...how would we keep everything fresh in the scorching Florida heat?
We had seen the
Appetizers on Ice
serveware at our local Bed Bath and Beyond, and thought it might be the perfect solution.
Then,
we came across an even better version of this innovative product on QVC. When we saw the
Appetizers on Ice
serving center with venting ice tray and lid, we absolutely had to buy one...or three, actually. Wow...this was one purchase that absolutely exceeded our expectations. How often does that happen, and why didn't we think of it first? The large, revolving server holds vented food trays over a bed of ice. The bottom tray holds the ice, while the vented food trays rest on top and hold the food. There are three double section food trays (six in all) and a dip holder, complete with three fitted lids...all on a lazy susan base. We particularly appreciate that it's made of break-proof polycarbonate and is top-rack dishwasher safe. Fabulous!
The serving possibilities are endless for the
Appetizers on Ice
serving center with venting ice tray and lid, but we pretty much stuck to the basics. We had one fruit tray, one veggie tray and one for chips and dip. The center tray was a little too small for the dips and salsa for our huge party...so we used a couple of the larger sections to accommodate both, and put our son's beloved M&Ms in the center trays. This wouldn't be a problem for a normal sized event, though. To prevent the dips from leaking into the ice, we took QVC's recommendation and lined the bottom of those trays with large lettuce leaves. Instead of buying pre-cut produce, we saved a ton of money by cutting up our own, and kept extra in a large cooler so we could easily refill each individual tray as necessary. The covers certainly helped keep our food even colder, and also protected it from any little critters (the bug kind, not the child kind) who decided to crash our party. We loved how the lazy susan base ensured easy access to everything on the tray. The
Appetizers on Ice
serving center worked so well, we only had to refill the ice trays once...which was a breeze to do.
The Daily Kool is so impressed with the
Appetizers on Ice
serving center with venting ice tray and lid, we have given several of them as house gifts for friends and family who enjoy entertaining. We cannot imagine how we would have done without this product for our son's birthday party. It's durable, convenient and affordable...a must-have for any household. We would like to see
serving center in other colors, but the clear acrylic certainly works with any decoration. An absolute value and terrific investment for any gathering. Our
Appetizers on Ice
serving center was the best way to keep our food "kool" in the hot summer sun.
Subscribe to The Daily Kool by Email