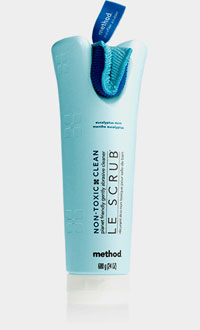 Today is the day for cleaning the bathrooms in The Daily Kool household. The master bath is usually not a big deal, but the kids' bathroom? Oh, my goodness gracious! After only one week, the fumes are enough to make us gag, our eyes water and, quite frankly, almost knock us over in a dead faint. But then again, we have boys...and they stand up when using the toilet...and they love to play with their favorite appendage...enough said? All the air fresheners in the world can't compete with that stench. What's a parent to do?

Go in with a mask and gloves, and hope for the best, that's what. Well, being armed with an amazing cleanser certainly doesn't hurt, either. Method Le Scrub soft abrasive cleanser really does the trick. Ever since one of our beloved followers suggested we try out the fabulous Method Best in Glass cleaner (see previous post), we have become huge fans of this fabulous company...and our windows have never been cleaner! One by one, we have gone away from the traditional cleansers that we grew up with, and have been replacing them with Method's non-toxic, vegan and environmentally friendly home cleaning solutions.
Method Le Scrub
is no exception.


Method Le Scrub
is a eucalyptus mint scented, mildly abrasive cleanser for deep cleaning the bathroom...deep cleaning is definitely the way to go in our home! It uses finely milled marble with naturally-derived, biodegradable ingredients to remove tough stains. Grime, soap scum, hard water deposits and mildew are no match for this gentle, yet powerful cleanser. Seriously folks, this works just as well as (if not better than) the stuff Mom used. And, ahhhhh....the smell is just plain wonderful!
Method Le Scrub
makes even

our

kids' bathroom smell like a spa!


Sure, you can always make your own at-home natural soft scrub cleaner (we've put the recipe below), but when you have a cruelty-free company that does it so well for you, why bother?
Method Le Scrub
soft abrasive cleanser is pretty cost-effective (a little goes a long way) has amazingly "kool" packaging (check out the sponge holder at the top!) and is readily available for purchase at our local Target store. Plus, we feel good about letting our kids help out cleaning with it...for more reasons than one. What more could we ask for? Well , maybe a girl next time!



Homemade Soft Abrasive Cleanser (if you are so inclined)



1 2/3 cups baking soda, sifted

1/2 cup liquid castille soap

2 tablespoons white vinegar

a couple of drops of tea tree oil, optional (works as a disinfectant)

an empty ketchup, or other squeeze-type bottle

Directions:
Stir liquid soap into sifted baking soda.

Add the water, and stir until smooth.

Add vinegar and stir some more.

Add essential tea tree oil, if using.


Pour into empty bottle.
Subscribe to The Daily Kool by Email