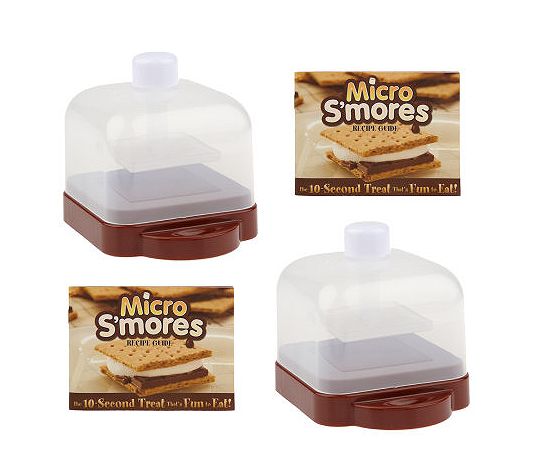 Guess what The Daily Kool found out? There is actually a National S'mores Day, and it's today (August 10)! Ah, s'mores...the delicious gooey campfire treat that is made up of graham crackers, chocolate and marshmallows. These are even worse than those potato chips (sorry, Lays). There is no way we can eat just one...we need "s'more, s'more!" Hence, the name. Bet you didn't know that, did you?

We have to admit that we're a bit confused, though...it happens to us often, we're afraid (must be the sugar high). Why on earth is National S'mores Day in August when National

Camping

Month is June? Darn it...now we have yet another excuse to indulge in this decadent dessert. Our taste buds might be cheering, "Hooray," but our ever-expanding waistlines are shouting "No way." No doubt about it, taste buds win hands down. There's only one problem. How do we make s'mores at home without the benefit of a roaring campfire?

Check out the Micro S'mores microwave s'mores maker. We came across this nifty little gadget while watching the cooking show on QVC yesterday...Sunday's cleaning day, and we

do

need some non-cartoon entertainment every once in a while. Anyway,
Micro S'mores
(complete with recipe book) claims to make the most delicious s'mores you've ever had in ten seconds or less. The process is simple...just load the
Micro S'mores
with a graham cracker, chocolate and one marshmallow (don't forget to top with another cracker), pop on the lid and microwave on high for 10 seconds. The domed cover is apparently designed to ensure even microwave energy distribution from the inside out, keeping the graham cracker crisp while completely melting the chocolate and marshmallow. At the same time, the auto-plunger applies just the right amount of pressure to form the perfect s'more.

While it is unlikely that the
Micro S'mores
will yield that true roasted marshmallow flavor of a traditional s'more (really, how could it?), it certainly offers a yummy alternative. Plus, if it works as well as it seems to on television, The Daily Kool is absolutely sold. The overwhelming positive reviews suggest that the Micro S'mores is just as great as it seems. Sure, we could probably produce passable results with a simple tea light and save the $22 or so. But the
Micro S'mores
seems like a lot of quick, kid-friendly fun. Plus, it'll give us a great opportunity to experiment with different s'mores flavors, right in our kitchen. How "kool" is that?

We love that the order actually comes with a set of two individually boxed items. We'll probably give the second one as a housewarming gift. Think of how impressive it would be to fill a large basket with the
Micro S'mores
, surrounded by packages of graham crackers, cookies, marshmallows and different types of chocolate. Oh, yeah...our friends

love

us. In the meantime, try this twist (albeit extreme) on a genuine classic. Enjoy!
Caramelicious Cookie S'mores
Ingredients


two oversized chocolate chip cookies
1 caramel-filled chocolate piece, your brand of choice (we like Ghiradelli)
1 large marshmallow



Directions

: Place the caramel-filled chocolate piece on one cookie, top with a marshmallow, and top with the second cookie. Put it into the
Micro S'mores
and cook for 7-10 seconds.



Note

: If you're going the traditional way, heat your marshmallow over a fire. Place the chocolate onto a cookie. Top one cookie with your toasted marshmallow and close like a sandwich.
Subscribe to The Daily Kool by Email