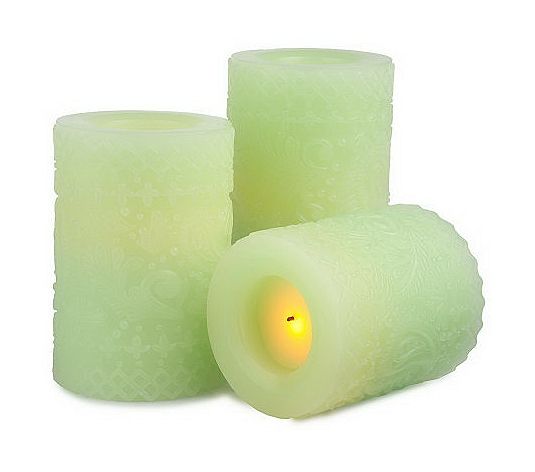 We at The Daily Kool love candles...they create a welcoming, relaxing environment and are a beautiful edition to any home decor. What could be a more perfect Mother's Day gift? Whoa...wait a minute. Candles? With kids in the house? Are we crazy?
Perhaps, but not in this case. Now, every mom can have it all with
flameless candles
for Mother's Day. We came across the most amazing selection of fashionable candles from CandleImpressions on QVC (gotta love them!) and ordered a set of
three paisley flameless
ones for our mother last year. We liked this particular set because of the color selections (the blue one went perfectly in our mother's home) and dual timer modes (5 or 10 hour automatic shut off options). Imagine enjoying the sight and scent (depending on your preference) of real candles without the hazardous flame or messy wax. No open flame, no soot...total safety. We were particularly amazed at how the
flameless candles
recreated the flicker and glow of real ones. Seriously, folks...each candle is made from wax and is so realistic, you can hardly tell the difference. There is a patented embedded LED light that flickers randomly and the batteries are hidden for a lifelike look.
Imagine the decorating possibilities that
flameless candles
can help you create. You can display them near curtains, next to the bed and around the pool...all without worry. Place one in the center of a floral arrangement for a stunning centerpiece. Line an outdoor stairway with
flameless votive candles
in glass holders. Best of all, they're safe enough to keep around kids and pets. And with each candle lasting for at least 350 hours,
flameless candles
last much longer than traditional ones. Beauty, safety and value...what more could mom want for Mother's Day?
Though the set of
three paisley flameless candles
were our choice, we want to let you know that these particular candles are on a wait list, unless you choose the white ones (shown above). But there are so many gorgeous options, you are bound to find several that will absolutely thrill mom on Mother's Day. The set of two
dried flower flameless candles
(vanilla scented) are particularly pretty. There is also an
8" tubular flameless mosaic candle
that looks spectacular. We can't say enough about
flameless candles
...what a great alternative to traditional candles. Definitely one of the "koolest" Mother's Day gifts of the year!
Subscribe to The Daily Kool by Email