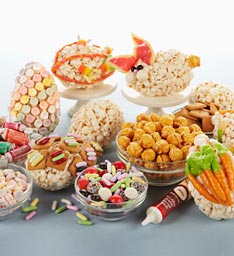 What better way to end our "kool" ideas for Easter week than with our all-time favorite snack...popcorn! We at The Daily Kool like to think of ourselves as popcorn aficionados, if only because we eat so darn much of it! Yep, popcorn is an obsession in our family for adults and children alike. So, we were really excited to see this great idea for a
popcorn egg decorating kit
from The Popcorn Factory.
These popcorn eggs look so yummy, we honestly question whether we will be able to hold off long enough to decorate them. The delectable
popcorn egg decorating kit
comes with a candy writer tube, an assortment of candy eyes, flavored tootsie rolls, mini marshmallows, red licorice, caramel corn, licorice bridge mix, smarties, mini graham crackers, an instruction sheet and 12 popcorn eggs. Are you getting hungry yet? Because we sure are!
This is a terrific project for the entire family. It got us thinking, though. Being the cooking-obsessed fools we are at The Daily Kool, we had to find out if we could also do this idea on our own. So, we borrowed a fabulous recipe from the famous Paula Dean for popcorn balls and modified the shape to a more "egg-like" form. Delicious! It was actually easier than we thought, with a few slight considerations...we've included them in the recipe below. Whether you purchase the
popcorn egg decorating kit
from The Popcorn Factory or try your hand at making it on your own, these tasty morsels will definitely sweeten up your Easter holiday. Enjoy!
Ingredients
2 cups sugar
1 1/3 cups water
1/2 cup light corn syrup
1 teaspoon white vinegar
1/2 teaspoon salt
1 teaspoon vanilla extract
18 cups plain popped corn (not microwaved...use either pre-popped corn or make your own)
Candy of your choice and icing tubes to use for decorating


Directions

Place popped corn in a large greased glass bowl (we sprayed with Pam)

In a medium saucepan, combine sugar, water, syrup, vinegar and salt. Cook over high heat, stiring constantly with a wooden spoon until mixture reaches 255 degrees F (hard-ball stage) on a candy thermometer.
Stir in vanilla.
Pour SLOWLY over popped corn, tossing gently with your wooden spoon. Again, do this slowly or you will melt the popcorn.
Let the mixture get cool enough to handle.
With lightly greased hands (we used oil), press popcorn into an egg-like shape. Make sure they are large enough to decorate!

Should make 10-12 nice sized popcorn eggs.
Sub
scribe to The Daily Kool by Email