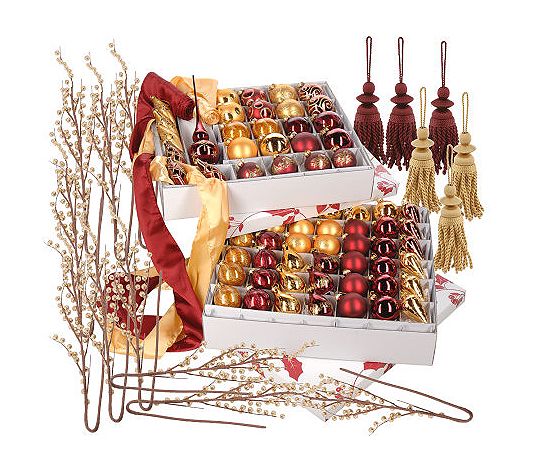 We know what you're thinking...why on earth would The Daily Kool be discussing a
Christmas tree trim set
in July? Well, ever loyal to our readers, we simply wanted to give everyone a heads-up to QVC's full weekend of everything you need for gift-giving and decorating. Hey, the big day is only five months away, and quite frankly...most of us are pretty broke in today's economy. We're all for preparing earlier this year and, of course, taking advantage of as many deals as we can get before the holiday season actually begins.
Let's be honest here...a bunch of Jews giving Christmas advice may sound kind of ridiculous. Hey, we can appreciate a beautifully decorated Christmas tree just as much as the next person! Besides, this particular
Christmas tree trim set
really looks amazing. Don't just take our word for it either. The 87-piece kit, put together by designer David Shindler is a customer top-rated item from QVC's Christmas collection. If you're looking for a truly professionally designed look, this set is definitely for you. Plus, it's on sale with five easy payments and no shipping costs. Sounds like a pretty great value to us!
We absolutely love the consistent reviews about the high quality of the ornaments that come with this complete
Christmas tree trim set
. The kit comes with everything you need to decorate a 6' - 7-1/2' tree, including a whopping 50 blown-glass balls that are either solid, hand-painted or marbleized. Add a bunch of winterberry decorator sprays, tassels, teardrops, blown-glass shapes, fabric garlands and a tree topper...you're all set to decorate the Christmas tree of your dreams.
Well...maybe. It kind of depends on how professional you really want your style to be. We can certainly see this complete
Christmas tree trim set
being perfect for an office environment. But at The Daily Kool, we put our kids in charge of our holiday decorations, and spend weeks with them creating hand-crafted masterpieces. This set may be just a little too perfect for a family that prefers the construction paper garland and bead project look. Then again, what do we know (Jews, remember)? Keep in mind that if you're looking for a specific color combination, this style may not be for you. You should also expect that with such a large kit, there will be some pieces that just don't appeal to you...they can't please everyone, you know.
The complete
Christmas tree trim set
by David Shindler will undoubtedly allow you to create a beautiful focal point in your home this holiday season. Bold colors, rich fabrics and elegance galore, QVC has given its customers quite the value with this kit. This is a truly magnificent collection of color-coordination to help create a stunning masterpiece out of your Christmas tree. Definitely a "kool" idea.
Subscribe to The Daily Kool by Email