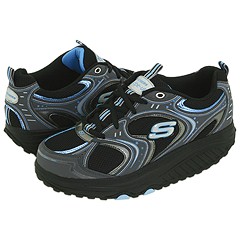 Okay, so we are quite a few weeks into summer vacation, and we've noticed that we're filling out our bathing suits

much

more than we expected. Somehow, our plans for getting into better shape have fallen by the wayside. What's going on here? Well, though we are not ones to make excuses (yeah, who are we kidding?), we do have several explanations. The kids are home, so we're finding ourselves parked at fast food restaurants more often than not (hey, we're on vacation too). It's been hotter than...well, you know. And, if we're not suffering in the blistering heat, we're getting drenched in the rain and chased by a flock of mosquitoes. Who wants to exercise outside in that? Of course, the heat naturally brings on our cravings for the sweet stuff, so the kids are eating ice cream almost every day...we can't let them eat alone now, can we? Wouldn't it be nice if we had a way to get into shape without the extra effort?

We've been hearing a lot the new Skechers Shape Ups fitness shoes and decided to check them out at our local mall. Skechers have been promoting their new line as a way of toning muscles and promoting weight loss, without setting a foot in a gym. Getting fit while walking, working and shopping? Sneakers that improve posture, strengthen the back and reduce stress on knee and ankle joints? Seriously, folks...who could resist these claims?

Here's the deal...every day, we typically walk on hard surfaces, placing stress on our knee joints and lower back.
Skechers Shape Ups
fitness shoes turn hard surfaces into more comfortable ground with a dynamic rolling bottom, soft foam insert under the heal and a dual-density mid-sole...all designed within the framework of the sneaker itself. The three elements work together to give the feeling of walking on a softer, uneven surface, simulating muscles that aren't usually used when walking on hard ground with standard walking shoes. Added benefits are increased circulation, blood flow and reduced impact on joints and lower back.

Okay,
Skechers Shape Ups
fitness shoes sound like a dream come true, but do they really work? In a word...yes! We've been wearing ours every day for about a week now. We don't have the back and joint pain that we typically feel after a day of running around with the kids. Plus, we absolutely feel the difference in our calves, thighs, buttocks and stomachs when we walk in them...provided we are doing it correctly. Because of the natural instability, we have to concentrate a little more on our steps or our ankles automatically roll inward. We have taken to chanting "sink (heel), roll, push (toes)" as we walk. Interestingly, the brisker we walk, the easier it is to keep our movements smooth and fluid. We wouldn't recommend running in these babies, though.

Our
Skechers Shape Ups
are honestly one of the most comfortable pairs of shoes we now own, and we feel great walking in them. We love that they come in a variety of styles and are available for both men and women. Though we haven't found the men's style online, they are in our local Sketchers store. The boat-like sole makes them all look fairly clunky, but the lift certainly makes us feel and look taller...we can use all the help we can get in that area anyway. The bigger soles are supposedly right in fashion...well, maybe for teenagers, but they look pretty silly on us. That's okay, though. The benefits are worth being a source of endless amusement to our friends.


Skechers Shape Ups
fitness shoes have certainly changed the way we walk, and are one of the "koolest" investments we've made this summer. They are so comfortable, the fitness benefits are just an added bonus. Check out their video for more information.
Skechers Shape Ups
just may be the answer to getting in shape by simply standing and walking. Now, if we could just lay off the ice cream...


Subscribe to The Daily Kool by Email